Filing for Veterans' Benefits
Veterans who have been diagnosed with lung cancer may qualify for disability and health care benefits. Eligible veterans may apply for veterans' benefits through the Department of Veterans Affairs (VA).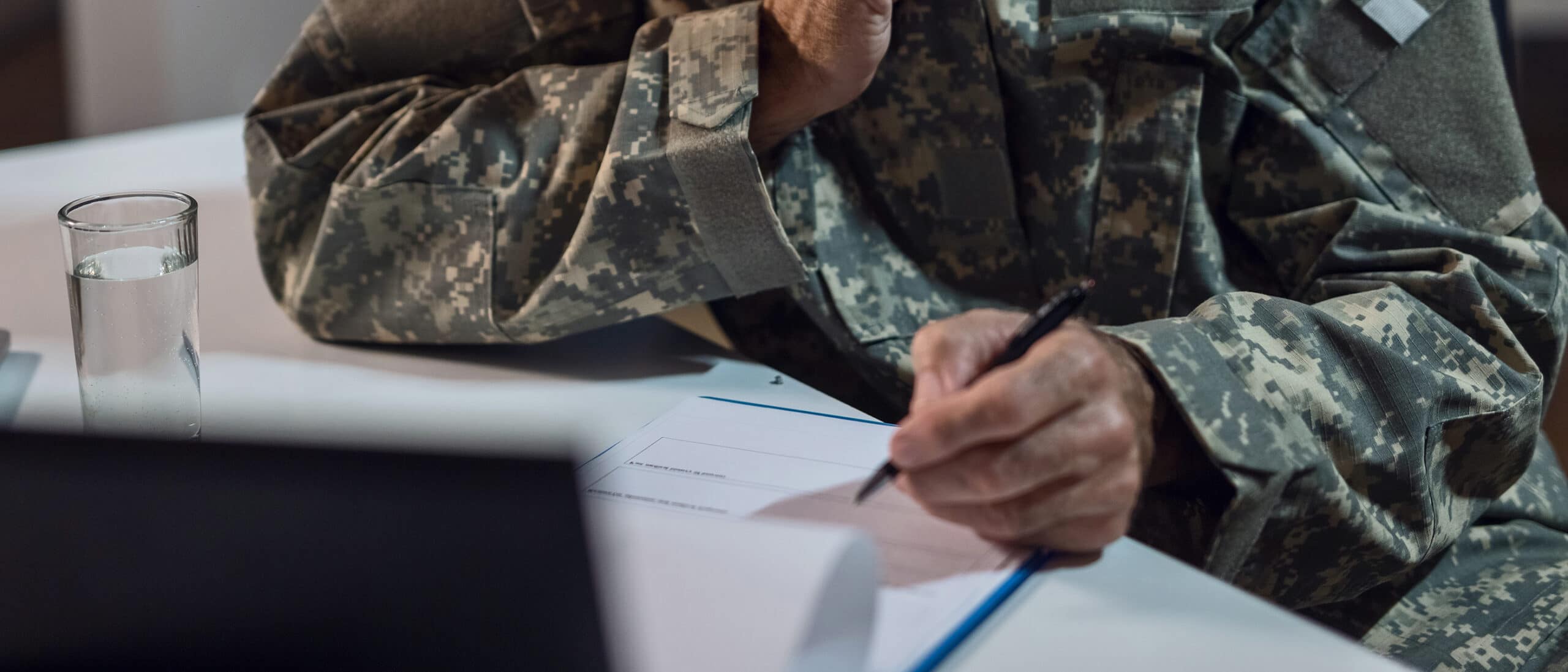 Veterans' Benefits for Lung Cancer
Rates of lung cancer have remained disproportionately high among American veterans for decades. For many, exposure to toxins during active duty service contributed to damage in the respiratory system. Before 1982 especially, many Americans encountered hazardous materials in the workplace. Today, government health organizations recommend veterans who worked with products like cement sheets, clutch facings, brake linings, flooring, insulation, pipes, and roofing to get screened for lung cancers.
To support the men and women who've served in the U.S. military, veterans' benefits can provide health care as well as financial compensation after a lung cancer diagnosis. The Department of Veterans Affairs (VA) is responsible for the management and disbursement of a variety of services to active duty personnel, veterans, and their dependents. The Veterans Health Administration and Veterans Benefits Administration are organizations within the VA and can provide relief after the diagnosis of chronic lung disease. Types of veterans' benefits managed by the organizations include:
Dependency and indemnity compensation (DIC)
Disability compensation
Geriatrics and extended care
Health care assessments
Health education programs
Hearing aids and eyeglasses
Home health care
Home telehealth
Immunizations
Respite care
Transportation service
VA Community Living centers

Who Qualifies for Veterans' Benefits?
Most people who enlisted in the Army, Air Force, Navy, Marines, or Coast Guard after September 7, 1980, qualify for some type of veterans' benefits. Length of service (referred to as "minimum duty requirement") and type of discharge are the primary factors in determining who qualifies for veterans' benefits. Those who served active duty and received anything other than a dishonorable discharge may file a VA benefits claim (some people with dishonorable discharges may qualify for certain benefits). People who served in the Reserves or National Guard may qualify for veterans' benefits, too, in some circumstances.
Prior servicemembers who have been diagnosed with a chronic illness related to their military service may also be eligible for veterans' benefits. For instance, diagnoses like lung cancer and meso may be connected to asbestos exposure. Consequently, the VA may grant disability and health benefits for treatment and after-care. Moreover, qualified dependents may be eligible for veterans' (such as providing compensation when a veteran's passing is service-related).
The VA encourages veterans who worked in the following jobs to see a doctor for about getting tested for occupational lung diseases linked to military service:
Demolition
Milling
Transportation
In addition to long-term lung damage like breathing problems and asthma, veterans' benefits (such as disability compensation) may be granted for the following conditions:
Anxiety
Cancers caused by hazardous exposure
Chronic back pain
Loss of range of motion
Posttraumatic stress disorder (PTSD)
Scar tissue
Severe hearing loss
Traumatic brain injury
Ulcers
How to File a VA Health Benefits Claim
The first step in receiving veterans' benefits is filing a claim with the VA. Disability benefits provide veterans with a monthly check – typically starting from $142.29 for a single veteran with a 10 percent disability rating and increasing from there. Next, you should collect the below documents to start your VA benefits claim. While not required, you may submit evidence with your disability claim. In some instances, the VA will schedule a medical exam for more information about your illness.
DD214 (i.e., discharge documents)
VA medical and hospital records that relate to your diagnosis
Private medical and hospital records related to your diagnosis
Supporting statements (from family, friends, people you served with, etc.)
Veterans have several options in how they file for VA benefits. Download and complete VA Form 21-526EZ. If you prefer to send your claim by mail, print out your claim and send it to the Claims Intake Center at the Department of Veterans Affairs. You can also bring the application to any VA regional office nearest you. Some veterans may even be able to complete the benefits claim form online here.
As of September 2020, the average wait time to receive a decision from the VA on your benefits claim is 131.5 days.
Additional Benefits and Compensation
Some veterans don't qualify for benefits, yet still need help paying for cancer treatments and other expenses. If you are unable to receive disability or health benefits from the VA due to a dishonorable discharge, consider filing for a discharge upgrade. Veterans diagnosed with certain asbestos-related diseases may have the option to submit an asbestos trust fund claim to receive compensation.
Additionally, certain individuals can file a lawsuit against the company (or companies) connected to their illness. Reach out to a qualified attorney to discuss your legal options, or fill out a free case evaluation to be contacted by a professional.