Lung Cancer Risk in the Navy
The risk of lung cancer is significantly higher among Navy veterans due to the use of asbestos and other carcinogens in building and aboard its ships and vessels since the early 1900s.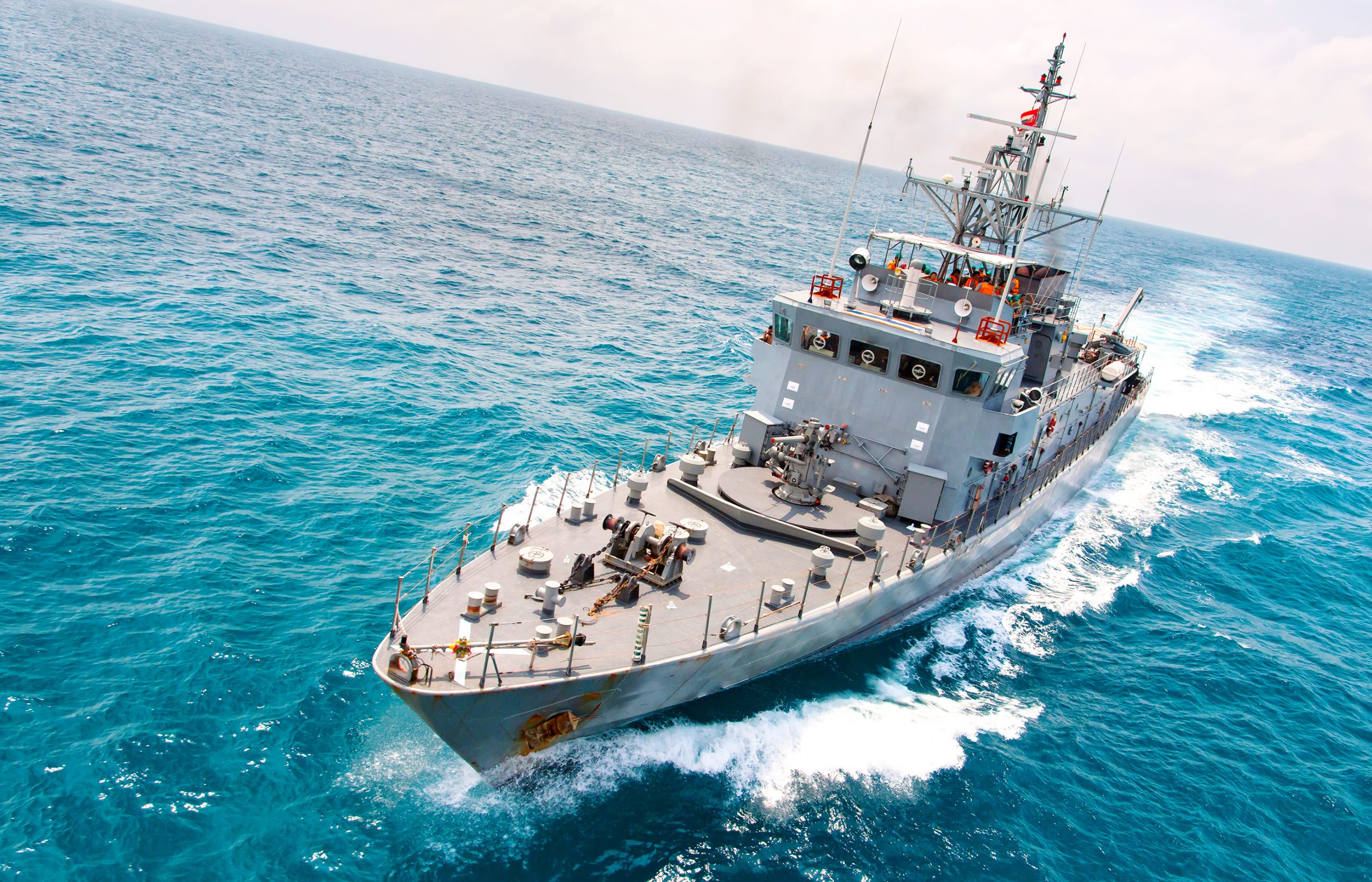 Occupational Cancers Affecting Navy Veterans
The U.S. Navy is one of the nation's oldest and largest consumers of the cancer-causing agent asbestos – used primarily as insulation in the construction of military vessels. The men and women who served aboard Navy ships or worked in naval shipyards before 1982 were likely exposed to the carcinogen. Consequently, veterans of the Navy and the Coast Guard have high rates of lung cancer and mesothelioma. Marines who spent extended periods of time aboard ships or near shipyards are also at risk.
According to the Department of Veterans Affairs, most veterans don't experience symptoms of asbestos-caused health problems until 20 to 50 years after exposure. Early symptoms of most occupational lung diseases can feel like a chest cold (such as shortness of breath, a persistent cough, and chest pain). These signs may indicate the presence of precancerous lung nodules or malignant tumors.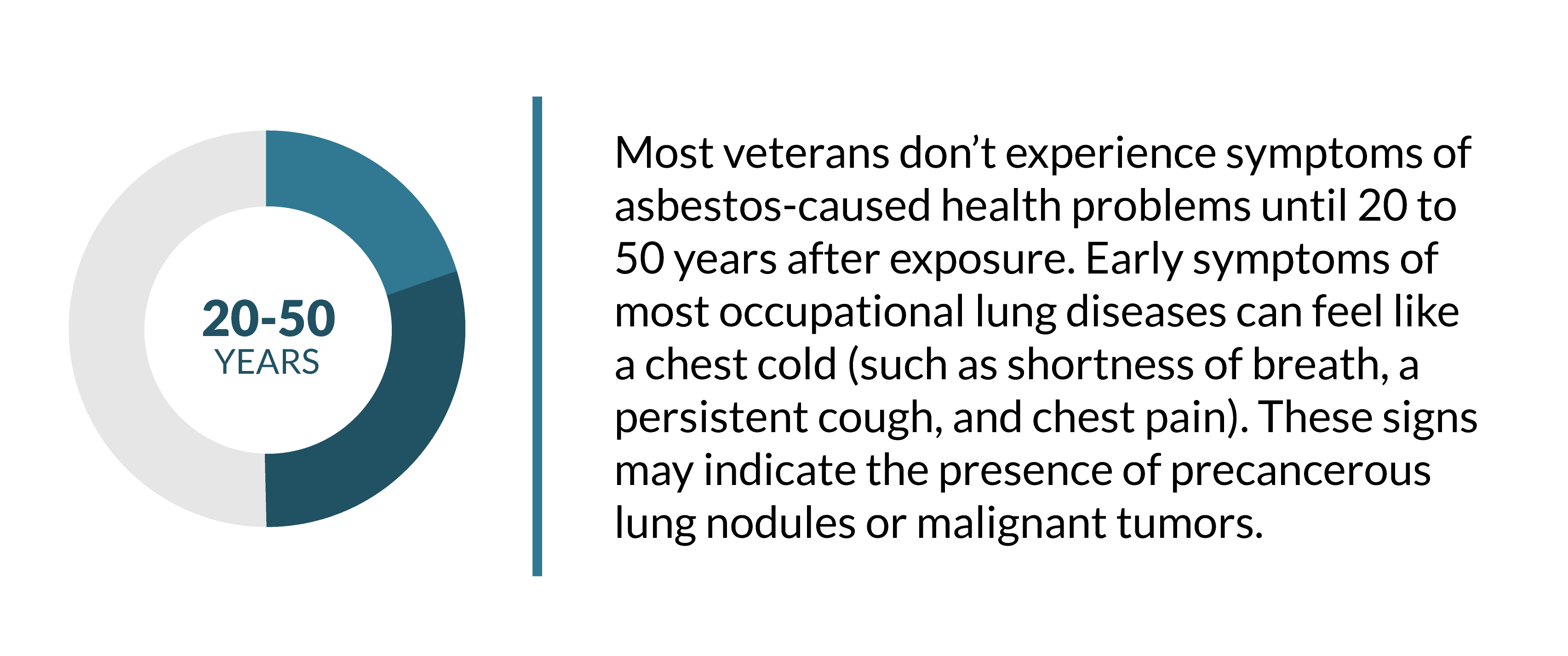 If a Navy veteran is experiencing any of these symptoms, speak with a health professional as soon as possible about the risk of lung disease. A doctor may order a diagnostic test to detect the presence of any cancers. Potential diagnoses related to asbestos exposure include:
Asbestosis
Lung cancer
Mesothelioma
Obstructive pulmonary diseases
Pleural effusions
Pleural plaques
Pleural thickening
Pleuritis
Cancer Risk Factors in the Navy
While the Navy's maritime vessels regularly contained tens of thousands of tons of asbestos and a high risk for hazardous exposure, servicemembers may have been inhaled carcinogens regularly in other places. Breathing the air in shipyards and ports for long periods of time, for example, was dangerous because of airborne asbestos, wood, and metal dust as well as paint chemicals and other toxic solvents. Asbestos exposure was a risk for people in boiler rooms, engine rooms, mess halls navigation rooms, and sleeping areas.
Navy enlisted ratings (i.e., careers) with the highest risk of exposure include:
Hull technician
Machinist mate
Sailors who handled the following products are also at risk due to the high amounts of asbestos they contained:
Adhesives
Cables
Caulk
Floor tiles
Gaskets
Grinders
Insulation
Packing
Paneling
Pipes
Roofing
Thermal materials
Tubing
Valves
Navy Ships and Sites With Asbestos
Nearly every ship built for use by the Navy between World War II and the late 1970s contained tons of asbestos insulation. A letter from the Office of the Chief of Naval Operations in 1979 said the toxic fiber had "so many common uses of asbestos that it [was] nearly impossible to build a Navy ship free of the mineral."
The table below details the approximate amount of asbestos-containing thermal insulation used on each major class of ship before the 1980s.
| | |
| --- | --- |
| Class of Navy Ship | Tons of Asbestos Thermal Insulation |
| Destroyer | 87,634 |
| Guided-missile cruiser | 123,770 |
| Large harbor tug | 6,858 |
| Replenishment oiler | 78,515 |
| Submarine | 62,465 |
Other classes of ships that contained asbestos thermal insulation included:
Aircraft carriers
Amphibious assault ships
Frigates
Oceanographic research ships
Patrol, combatant missile ships
Compensation for Veterans
Veterans who have been diagnosed with a form of occupational lung cancer on duty may be able to make a legal claim for compensation. Compensation can cover things like medical bills and other expenses caused by the veteran's diagnosis.
Veterans or their families who file a personal injury or wrongful death lawsuit won't be suing the military, the federal government, or the VA. Instead, the case will hold the companies who manufactured the contaminated products responsible for their long-term effects. Additionally, your veteran's benefits will not be put at risk by speaking with an attorney or filing a case.
For more information about compensation and legal aid, fill out a free veteran-focused case evaluation form.