The Link Between Vape Pens and Lung Disease
By Destiny Bezrutczyk |
Vape pens and e-cigarettes have become a common smoking device used to inhale flavored aerosols packed with nicotine, THC, and other chemicals. Research shows that the use of vape pens lead to symptoms directly related to lung disease.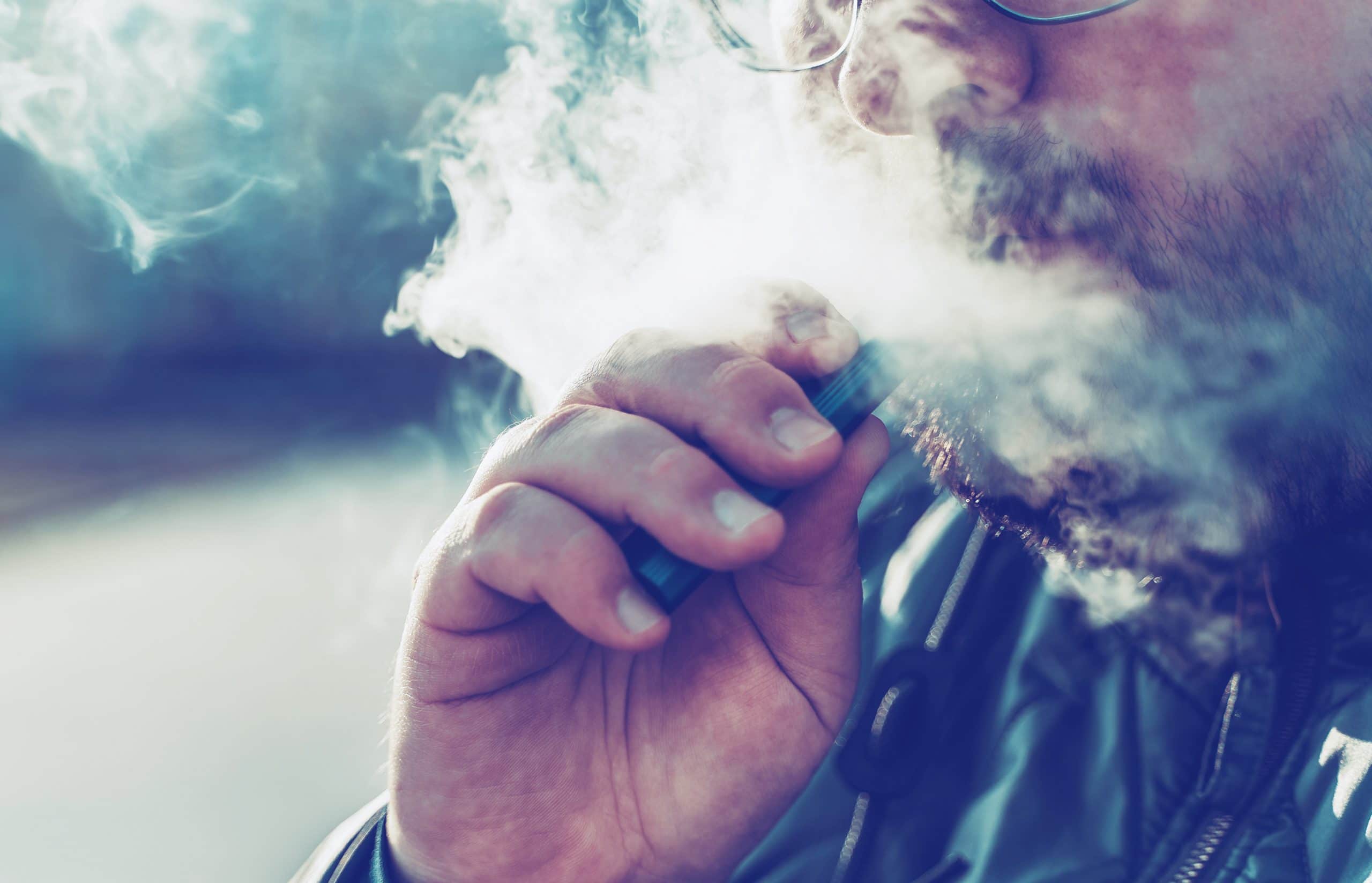 What Are Vape Pens?
A vape pen is a battery-powered, portable electronic smoking device used to inhale aerosols containing chemicals like nicotine, sweet flavors, THC (the psychoactive compound in marijuana), CBD (the non-psychoactive compound in marijuana), and others which can be potentially hazardous. They can be made to look like cigarettes, pipes, or a USB memory drive. Typically, e-cigarettes use liquid, or e-juice, that contains nicotine, a solvent that allows ingredients to be aerosolized, and flavoring to mask the scent and taste of its chemicals. Other vape pens use similar liquids or THC/CBD combinations. When heated and inhaled, these chemicals can be hazardous to the heart, lungs, and brain.
Alternatively, vape pens may be called vaporizers, e-cigs, hookah pens, and mods (referring to customized, more potent vaping devices). Most of these devices operate with cartridges or, as it's more commonly known among Juul users, pods containing liquid. As often as needed, these cartridges can be refilled and/or replaced. Reportedly, a single Juul pod (containing about 200 puffs) can hold as much nicotine as a pack of cigarettes. Often, other cartridge ingredients include the solvents vegetable glycerin or propylene glycol and sweeteners like vanilla, mango, and coconut. While the Food and Drug Administration (FDA) has deemed these ingredients safe to use in food and cosmetics, they can affect the body differently when heated and inhaled. After prolonged periods of use, vaping may lead to lung damage. Propylene glycol, for instance, may lead to asthma if inhaled in an aerosolized form.
Other probable carcinogens or hazardous ingredients found in e-cigarettes include:
Formaldehyde
Acetaldehyde
Acrolein (made by heated glycerin)
Diacetyl
Tin
Nickel
Cadmium
Lead
Mercury
Side of Effects of Vaping
Generally, the physical effects of vaping are dependent on the ingredients in the cartridges and liquids used. E-cigarette use usually produces a reaction similar to traditional tobacco use. For most people, this includes an increase in blood pressure and adrenaline. Additionally, the heating elements of some electronic smoking devices have dangerous levels of heavy metals like nickel and chromium, and low levels of cadmium (which can cause respiratory issues and damage).
In August 2019, the first vaping-related death was reported in Illinois. According to federal data, over 2,600 cases of vaping-related illnesses have been reported in every state in the U.S. As reported by the Centers for Disease Control and Prevention (CDC), more than 57 people have died from diseases caused by vaping. In early 2019, health investigators tracked 53 patients in the hospital due to vaping sicknesses. Mostly, they were male with a median age of 19. Many were admitted to intensive care; one in three required respirators to breathe. Prior to their hospitalization, those affected exhibited symptoms such as:
Chest pain
Coughing
Diarrhea
Fatigue
Fever
Nausea
Shortness of breath
Vomiting
Weight loss
Worryingly, some patients were released after they seemed to recover and needed to be readmitted later when more severe symptoms developed. CDC authorities refer to this period as a "relapse" which, typically, lasted between five and 55 days after the patients' initial hospital release. A resumption in the use of vape pens and long-term lung damage were primary reasons for hospital readmission.
State Vape Bans and Federal Regulation
As of 2016, the FDA requires all vape products and e-cigarettes to be regulated by the same statutes and federal agencies as tobacco. As of December 2019, the legal age to purchase tobacco products was changed from 18 to 21 years-old. Part of a bill signed by President Trump, the increase hopes to reduce the growing number of high school students abusing electronic vaping devices. Also part of the effort to reduce underage use, a ban on flavored e-cigarettes and pre-filled pods (with flavors often marketed toward the youth, like Jammin' Juice). Too, FDA authorities worry that adults may be over-using vaping devices and at-risk of developing permanent lung damage or illness, including lung cancer.
In a study released in fall 2019, nearly one in three high school students used vape pens, compared to approximately one in ten in 2017. Subsequently, six states enacted stricter vape pen regulations than the federal government. Even the city of San Francisco, for example, completely banned the sale and distribution of all e-cigarettes – not only flavored varieties. States with vaping bans include:
Massachusetts – bans all e-cigarette and cannabis vape products
Michigan – bans sale of flavored e-cigarettes
Montana – under temporary flavored e-cigarette ban
New York – bans sale of flavored e-cigarettes
Oregon – bans flavored e-cigarettes and cannabis products
Rhode Island – under temporary flavored e-cigarette ban